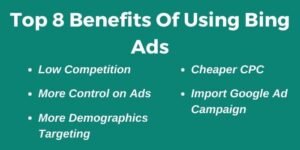 Without any doubt, Google is the dominant player in the search industry. With more than 5.5 million daily searches, that's the powerful reason why advertisers target people on Google more than any other search engine. But is Google the only option for you? Indeed it's not because Microsoft Bing is not far behind in the arena.
Bing is the second largest search engine with more than 900 million daily searches. And if you are ignoring Bing Ads then you are missing out on a growth opportunity and benefits for your business that we are going to see in this article.
Now, coming to the benefits, below are those unique traits where Bing Ads excel your expectation.
Benefits Of Using Bing Ads For Business In 2021
Here are some of the reasons to use Bing Ads that you shouldn't ignore for business, product, or service.
Low Competition
More Control on Ads
More Demographics Targeting
Better Device Targeting
Cheaper CPC
Import Existing Google Campaign
Search Partner Targeting Advantage
Ignore Search Keyword Mistakes
1. Low Competition
It's a win-win situation for marketers because the majority of people use Google than Bing. There are chances that your competitors are targeting the audience of Google search engine and results in low competition. It also helps to rank higher on Bing due to the less competition.
1. Deep Control On Ads
It offers granular control at the group level and is more customizable. Bing ads are easy to manage complicated ads campaigns and especially for international targeting. You can tweak anytime in the ongoing ad campaign without creating the new one.
2. More Demographics Targeting
Bing offers demographics targeting options at the group level. An advertiser can make adjustments anytime they want at the group level anytime they want to. It also lets the advertisers set the campaign to different time zones.
3. Import Existing Google Campaign
If you have run a successful Google Ads campaign then you can simply import that in your Bing Ads campaigns. This is one of the great benefits of Bing Ads for business that you can make use of successful strategies on a different platform. So, login to your Bing Ads account and start importing it.
4. Better Device Targeting
Microsoft Advertising has the ability to target based on the device type and OS. Also, the marketers can exclude specific devices like desktops, tablets if the campaign is for mobile devices only.
5. Cheaper Cost Per Click
Advertisers use Google AdWords more for marketing than Bing and that's the reason Microsoft Advertising is cheaper. In a report, it has been found that Bing Ads CPC is 33% cheaper than Google Ads. It is one of the best for medium and low-budgeted businesses for the marketing campaign.
6. Search Partner Targeting Advantage
Bing Ads gives users more control to check, choose or discard the search partners working on the ads & driving traffic. Microsoft Advertising has the powers of three search engines that are Bing, Yahoo, and AOL. That means when you advertise on Microsoft your results will be displayed on all three search engines.
7. Ignore Search Mistakes
Bing allows close variant features native to Google to show the correct and near match keyword-related search results. That way if someone types something wrong then it will automatically re-correct in the search and match to the keyword.
These are some of the advantages of using Microsoft Bing Ads in 2021 for your business.
What Is Bing Ads?
Microsoft Advertising or Bing Ads are the same things after Microsoft has rebranded Bing. It uses the same concept as Google AdWords. It works on a pay-per-click (PPC) model that helps to reach out to the targeted audience. Bing Ads appear on the top of the result page after the search bar.
Advertisers use Microsoft Advertising to reach out to more audiences from around the world. One of the great benefits of using the Microsoft search engine is that it is powered by Bing, Yahoo & AOL. With more than 12bn monthly search volumes from around the world, Bing has great growth potential.
Is It Worth Using Bing Ads For Business?
With Microsoft Advertising advertisers promote their business and target millions of daily visitors. There is no doubt that all three search engines from Bing VS Google VS Yahoo Ads are good for marketing. Well, it all depends on the type of business if Bing Ads are worth it or not.
The most used search engine after Google that is used in the US is Bing. So you get a great opportunity to expand your reach in the US as well as in other parts of the world.
Bing Ads offers many of the benefits and helps to move the business in a fast lane. So, ignoring Bing is not a good idea if you want to take your business to the next level.